Alright, I was determined and spent a couple days trying to solve the situation where your coastline would end up stuck under the cliff transition between water and grass and I came up with a solution.
First: create your map through dragon (obviously, unless you are one of those who likes to take years on worldforge one tile at a time) making the grass along the coasts as high as you want (it's easier and cleaner to do it through dragon than to change the height in worldforge)
Second: open up the Map file that you created through Dragon and go to the locations that you wanted higher than 0 grass.
Third: In game these locations will have the coast overlapping the coastline pieces and it looks rediculus. To fix this you only need to change the line of brown right up against the cliff transition (not all the brown, just the 1 square next to the transition) to -5 coast for every +5 grass.
Table: Grass>Coast
0>-15 (already works and is how it is layed out)
5>-20
10>-25
15>-30
20>-35
25>-40
30>-45
etc.....
Creating them 5 higher than what ive specified in the table doesn't seem to affect it too bad but I've only experienced it at heights of 30 using a -50 coast.
Example Image: (this is what it looks like at 30z grass with -50 coats)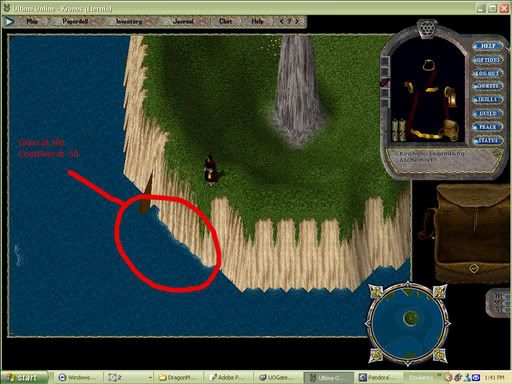 The coast circled in Red is what it looks like after you alter it through WorldForge (i use 6.4), the Stretched brown on the side is the effect you get if you go further than the heights ive specified (it was at 25 grass and I put -50 coast, it stretched out the coast to meet the cliff)
You really only need to worry about S, SE, SW, W, and NW as the coast, the heights around the back aren't important as people won't be seeing that coast.
I hope this helped, Enjoy (if you're still confused, PM me and ill alter the Tutorial to answer the question)
Have a day
Kronos, Theion: Owner